DH: What inspired you to make the documentary "Who is Bozo Texino?"

BD: The Mobius strip is what permanently hypnotized me.

DH: Prior to the DVD, had you ridden the rails?
BD: In 1987 I decided to head west to look for gold, so I jumped a freight

in Houston and made it to Los Angeles. The only food I brought on the
trip was a big bag of yogurt raisins. They melted together in a blob
and I was so sick of them that by the time I got to California I was
practically starving even though I still had 2 pounds of them left.
DH: Do you have a personal moniker? If so, please explain it's origins. If not, what would it be?

BD: I do have a drawing, which is based on a line from Daniel Johnston.

DH: "Mostly True" was published in 2008. How long did it take you to complete.

BD: Began shooting photos and collecting historical material in 1983.

Carried the material in milkcrates from state to state. I also collect
milkcrates from different regions, so the project had a two-fold
mission. I'm not joking about the milkcrate collection. Anyone who knows me
knows it's true.
DH: "Mostly True" is written as a Rail Zine. Have you ever read Mick Trackside's "Faded Glory Magazine"?

BD: Never heard of it.

DH: Currently a documentary is being filmed called, "Ramblin' ". It documents the life and times of hoboes and boxcar art. Do you have any advice for the crew?

BD: Don't shit upstream of camp.

DH: How do you see the future of hoboes and traditional box car art in America?

BD: 90% of the entire nation will be classifiable as hoboes in a few

years, I predict. What's difficult to say with any certainty is which
plural spelling of hobo will be more common in the future; hoboes, or
hobos. While I tend to use both spellings— being unable to commit to
sticking with the older style, hoboes, or the more modern form,
hobos— I do advise against the use of apostrophes to indicate plural
form.
DH: You've contributed a lot towards the preservation of monikers. What's next for Bill Daniel?

BD: Next, for me, another cup of coffee. After that, it's difficult to say

with any certainty.
DH: Where can people get a copy of your DVD and Book?

BD: The DVD is available from my website billdaniel.net, the book is

available from Microcosm Publishing. If your local zine shop doesn't
carry Mostly True throw rotten tomatoes at their front door.
DH: Thank You for your time. Is there anything else you'd like to add?

BD: No fooling around on freight trains!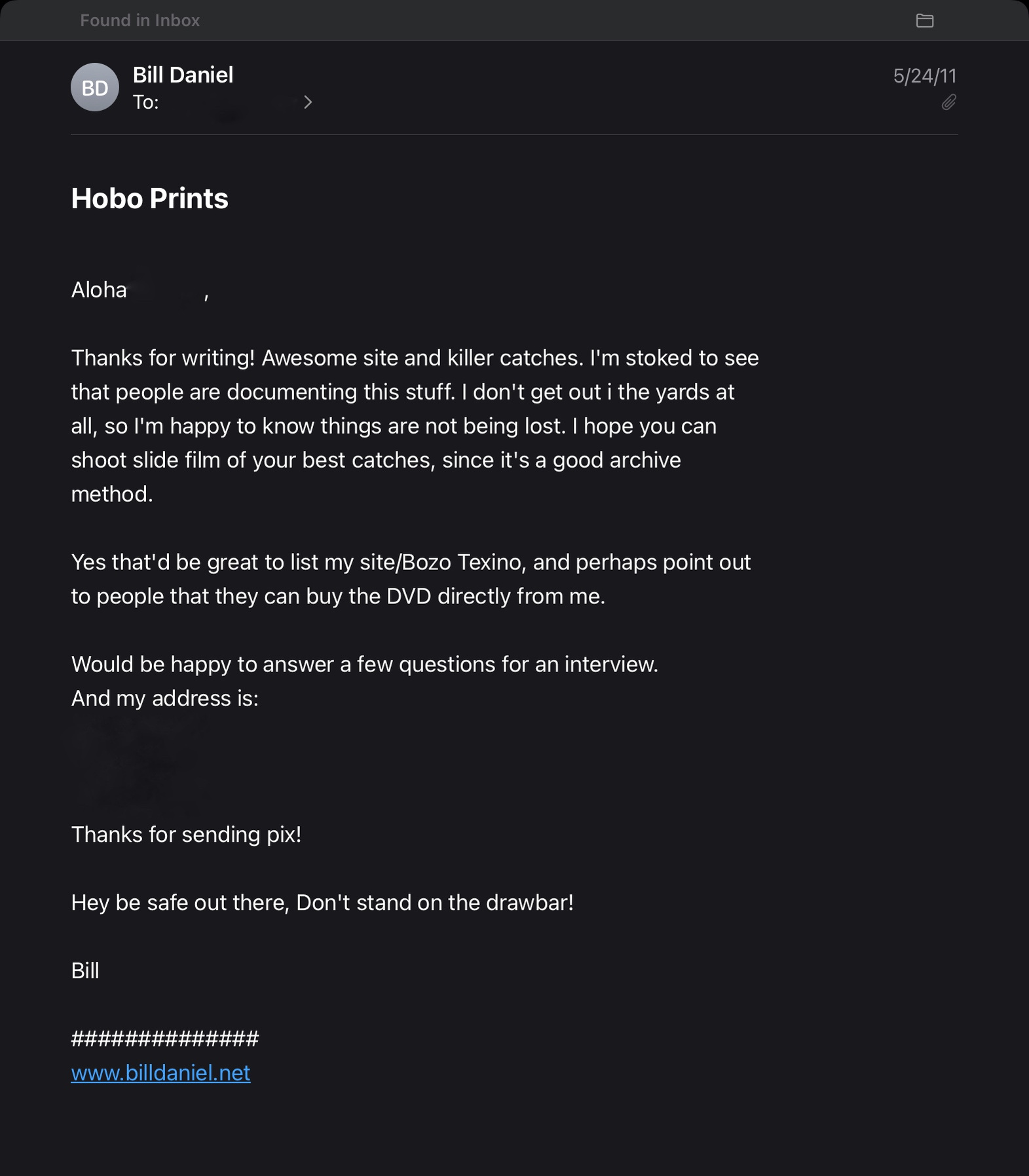 This interview took place in 2011. For more on Bill Daniel click HERE.
Watch "Who is Bozo Texino?" HERE.